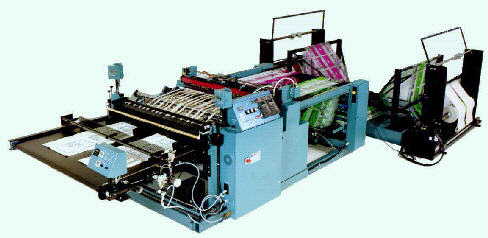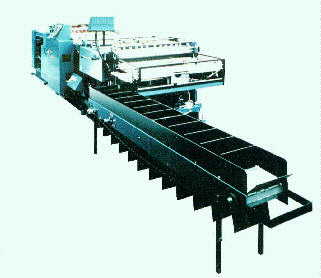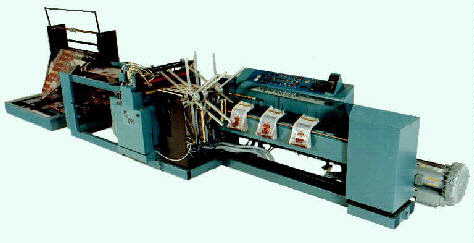 FLATBED
  FIN-KON'S 890 SERVO DRAW CONVEYOR BAG MACHINES
   ARE AVAILABLE IN THREE WIDTHS.  A 30" WIDE WITH 28"
 WEB CAPACITY, A 41" WIDE WITH 38" WEB CAPACITY AND
 A 56" WIDE WITH 54" WEB CAPACITY.  THE 30" WIDE 890 IS
  ONLY AVAILABLE AS A SOLID ROLL MACHINE.  THE 41"
  AND 56" WIDE MACHINES ARE AVAILABLE IN SPLIT OR
                       SOLID ROLL CONFIGURATIONS.
AUTOMATIC WICKETER
    FIN-KON'S SERVO DRAW AUTOMATIC WICKETER BAG
  MACHINES ARE AVAILABLE IN TWO WIDTHS.  A 30" WIDE
    WITH 26" WEB CAPACITY OR 41" WIDE WITH 35" WEB
       CAPACITY.  THE TWO MACHINE WIDTHS MAY BE
   ACCOMPANIED WITH A 14" WICKETER WITH A 13.5" WEB
    DRAW CAPACITY OR A 20" WICKETER WITH 19.5" WEB
   DRAW CAPACITY IN EITHER LEFT HAND OR RIGHT HAND
                                         LAYOUTS.
AUTOMATIC BAG FOLDER
     THE FIN-KON FOLDER INDIVIDUALLY FOLDS WITH 3 OR 4  
    FOLDS,   COUNTS AND STACKS SIDEWELD SEALED BAGS.
   MATERIAL IS TO BE LAY FLAT ROLL STOCK  WITH REPEAT
  SIZES FROM 18" MINIMUM TO 45"  MAXIMUM AND MATERIAL
     THICKNESS FROM .0008" TO .0020" MILS.  OUR FOLDER
  SYSTEM IS AVAIABLE FOR OUR 890 41" WIDE AND 56" WIDE
                    MACHINES IN A 1 or 2 UP OPERATION.